Follow the history of Stagecoach No. 186
This historic stagecoach sits in Wells Fargo's museum in San Francisco — discover the significant events that were a part of its journey.
Over the past 90 years, generations of families have visited the Wells Fargo Museum in San Francisco to see the historic stagecoach on display and reflect on the past.
Stagecoach No. 186 traveled quite a journey and participated in many historical events before and after one man's love of Wells Fargo and western history brought it home to the museum.
How an icebreaker become an icon
Gerald W. Wickland, Wells Fargo's publicity manager in the early 20th century, loved the bank's history and collected papers and artifacts from the company's past. More than preserving the bank's history, he loved to share it. He noticed that it was a great icebreaker when talking with customers, and he would watch people's eyes light up when he shared stories of daring Pony Express riders and exciting stagecoach journeys.
Wickland even arranged for history exhibits in bank windows and articles in newspapers. As a result, western history researchers called him for information about Wells Fargo and general history, and movie producers would ask for advice. The bank even sponsored the first re-enactment of the Pony Express in 1925, which broke the 1860 record for quickest ride across the country.
In 1928, Wickland found a historic Concord coach for sale by a woman in Alviso, California. It had been made by Abbot-Downing, the same New Hampshire vehicle manufacturer that Wells Fargo had bought its sturdy stagecoaches from in the 1860s. While it had not been owned by Wells Fargo, it was an authentic stagecoach that had been used on California's roughest roads. It provided a physical link to a time when people depended on stagecoaches to get access to money and stay connected with family and friends.
Thanks to Wickland's advocacy, Wells Fargo bought the coach for $500 and had it brought by barge to San Francisco, where it was used in parades, events, and eventually became the main attraction at the bank's public museum.
A piece of history
No one knows who first owned this stagecoach, or where it was first used, but markings discovered in a 1975 restoration offer clues about its history. Charles H. Adams, a wood worker at Lewis Downing's coach factory in Concord, New Hampshire, signed his name to the coach after completing the wooden frame in 1864. The coach also bears the marking No. 186. All stagecoaches were marked with a number in the factory to ensure they got to the right customer.
A few years after No. 186 was made, Wells Fargo ordered dozens of its stagecoaches from Lewis Downing and his partner J. Stephens Abbot. Their company in Concord, Abbot, Downing & Co, was considered to have the nation's best craftsmen of quality vehicles.
At some point, coach No. 186 came to California. In the 1870s, George Colegrove and Henry C. Ward started a stagecoach line to get tourists from the train depot in Santa Clara over the mountains to the coast at Santa Cruz. Under the expert care of Colegrove and Ward, passengers relaxed in coach No. 186 while they talked, slept, and admired the mountain and ocean views.
Over time, this stagecoach became the inspiration for how Wells Fargo communicated its values and ambitions to its customers. It has also provided a shared experience across generations. As visitors encounter historic stagecoach No. 186 in San Francisco, they get a glimpse of the past, are reminded of changes that have taken place over history, and contemplate the continued evolutions that the future holds.
A history of Stagecoach No. 186
Photo Credit all images: Wells Fargo Corporate Archives.
1864
Stagecoach No. 186 was made in Concord, New Hampshire.
1870s
George Colegrove and Henry Ward used stagecoach No. 186 to carry passengers through the Santa Cruz mountains.
1928
Wells Fargo purchased No. 186 and loaned it to George Colegrove, left, to drive in a San Francisco parade. Joseph Dominguez, right, was foreman of Wells Fargo's stables in the 1910s and rode along as the armed messenger.
1935
School tours, like this one in 1936, enjoyed a rare opportunity to climb inside the historic stagecoach when Wells Fargo's unique collection of artifacts opened to the public in 1935. At the time, no other museum in the city offered a permanent exhibit about California's Gold Rush history, something every fourth grader in the state needed to learn.
1935 – 1936
No. 186 traveled south to San Diego to be the centerpiece for Wells Fargo's popular history exhibit at the California Pacific International Exposition.
1936
When the San Francisco-Oakland Bay Bridge opened in November 1936, stagecoach No. 186 was one of the first vehicles to drive across it.
1937
The bank loaned the stagecoach to Hollywood during the production of the hit movie "Wells Fargo."
1939
Crowds of visitors lined up to see the stagecoach in person during the Golden Gate International Exposition on San Francisco's Treasure Island.
1946
As the bank's public history exhibit became more popular, additional room was designated for people interested in seeing stagecoach No. 186 and other artifacts.
1930s – 1950s
The bank turned to stagecoach No. 186 for inspiration when designing a coin bank advertising promotion.
1956
Stagecoach No. 186 appeared in a Wells Fargo ad.
1960
The stagecoach was rolled out of the museum for a photo shoot to represent the merger between Wells Fargo and American Trust Company.
1962
The stagecoach was securely hoisted to its new home at the bank's headquarters at the corner of Market and Montgomery Streets in San Francisco.
1962
Stagecoach No. 186 inspired Wells Fargo's new logo (released in 1962), which was featured above the bank's skyscraper at 44 Montgomery St. in San Francisco, seen in this 1970 photo. The eagle design on the stagecoach door that is unique to No. 186 is visible.
1966
Stagecoach No. 186 has been a part of group photographs, like this one of a school group in 1966, and fun memories for decades.
1970s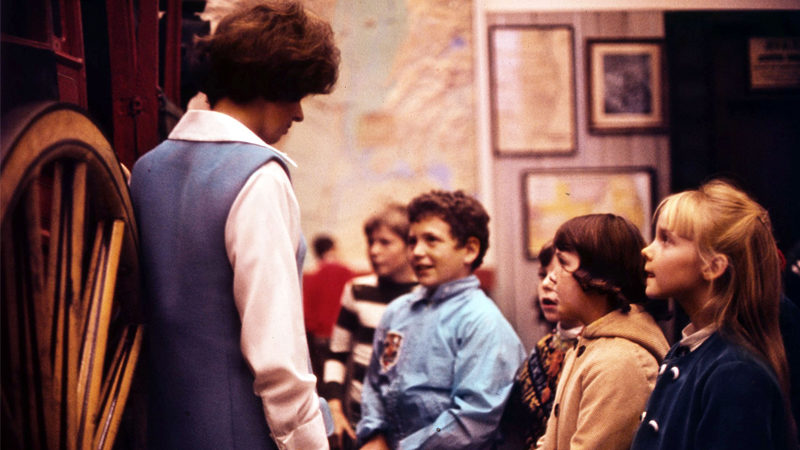 A visit to the bank's history room was not complete without stopping in front of the stagecoach.
1980s
The stagecoach has inspired questions and conversations for generations.
2000s
Some students dress in pioneer clothes for the occasion of seeing the stagecoach.
2014
Students get a stagecoach ticket in front of coach No. 186.
Today
Visitors continue to visit stagecoach No. 186 to reflect on the past and find inspiration for the future.